Here we go again. The 'scourge of P' continues to ruin lives, businesses and anyone involved with it. Now go and read my take on how 'P' affects a family--a real story for today's kids. Go to www.authorneilcoleman.com and read ROSKILL by Neil Coleman
Suspected P-lab found in upmarket Wellington apartment
Updated
10:40 AM Friday Mar 7, 2014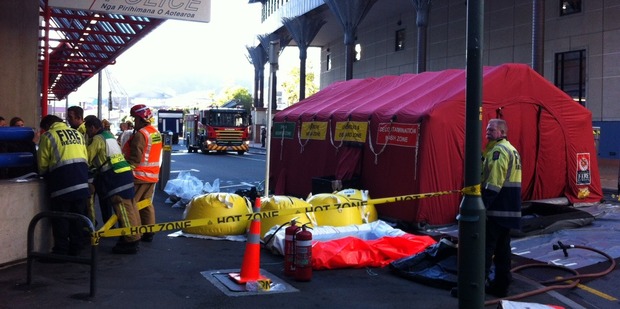 Fire Service and a decontamination tent set up near the scene of this morning's surprise clan-lab discovery. Photo / APNZ
Armed police stumbled onto a P lab in an upmarket Wellington apartment while executing a search warrant just metres from their district headquarters this morning.
The 13th floor apartment on Chews Lane, between Willis and Victoria streets in the CBD, was raided shortly after 5am.
Four people have been taken into police custody but charges are yet to be laid.
The 19-floor apartment complex, which opened about five years ago, was evacuated after the lab was discovered.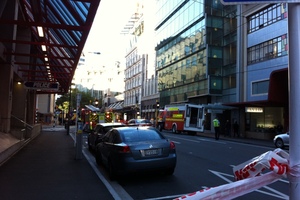 Police closed nearby streets while a decontamination tent was set up between the Wellington police district headquarters and the central library.
The Victoria St end of Chews Lane - a well-used pedestrian alley that houses cafes, a bar and apartments - is directly opposite the police and library buildings.
Detective Senior Sergeant Tim Leitch said police executed a search warrant after members of the public tipped them off to drugs at the address.
"The police kind of tripped upon this lab - we didn't realise there would be a lab there, so we weren't prepared for a lab."
Three people were arrested and decontaminated before being taken to the police station. A fourth person arrived while police were at the apartment.
"It could be anyone's next door neighbour that might be manufacturing meth."

"After a short foot chase he was apprehended. He's also been arrested and been brought back to the police station," Mr Leitch said.
Police were waiting for ESR scientists to arrive from Auckland to help assess the apartment.
Residents of some of the 95 apartments said they were evacuated about 7am - some two hours after the search warrant was executed.
Mr Leitch said the building had been evacuated in staged manner because police had not initially realised there would be a lab in the apartment.
"Because of the risk of potential fire and explosion, we had to evacuate the entire apartment block," he said.
Cordons around the area were lifted about 8.30am and residents allowed to return to their apartments.
One resident, Jonathan Kings, was surprised when told a drug lab had been found in his building.
He said nobody in the building had raised suspicions and the alleged offenders would have been "hiding in plain sight".
"I don't think of my apartment block as being home to clandestine labs - I think of them as being somewhere else."
Most residents were middle aged or elderly, with some families, Mr Kings said.
Police were less shocked by the find on their doorstop.
"I guess nothing really surprises me," Mr Leitch said.
"The labs can be very mobile - they can be set up pretty much anywhere. [There's] a lot of money involved with methamphetamine supply, a lot of profit, so I guess it's not surprising to find people setting up in a nice apartment."
Asked if the proximity to a police station was a bad look, Mr Leitch said: "I guess you could say that. I guess it just goes to show that they can anywhere, and police are certainly always keen to close these sorts of things down.
"My message would be if people see strange activity - if they hear activity or they smell chemical smells, running water, anything unusual - they should let us know because as you see, it could be anywhere.
"It could be anyone's next door neighbour that might be manufacturing meth."
It was not know how long the lab had been running for, Mr Leitch said.
The big dangers were explosion, fire and chemical contamination.
"There's significant risks involved with P labs."