Cunliffe to Collins: You're a trout. Collins to Cunliffe: You're sexist
5:30 AM Saturday Nov 23, 2013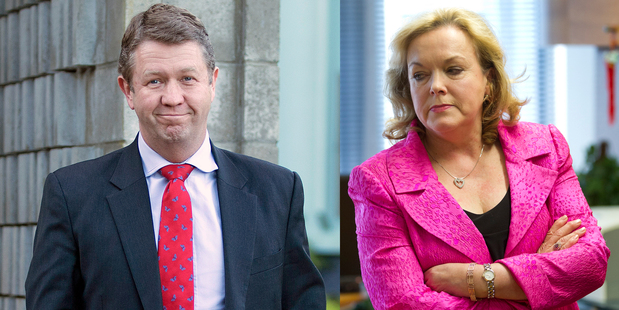 In 2011, Mr Cunliffe said in an interview that the human species would be extinct if Ms Collins was the last woman on Earth. Photos / NZ Herald
Labour leader David Cunliffe says Justice Minister Judith Collins is a trout.
She responded by calling him a "recidivist sexist", as he previously said the human race would die out if she was the last woman on Earth.
Mr Cunliffe made his comment in a
blog post
on the website The Ruminator yesterday.
He said: "The original brief was to respond to a post by Judith Collins. My post was going to be about snapper, not trout. But considering that issue, along with Judith's leadership aspirations, has floundered, I'll try another hook."
Asked to respond on Twitter, Ms Collins
tweeted
: "Imagine the outcry from Labour if one of Nat male MPs called a Labour woman a trout."
When followers said she was too sensitive for a person who readily dished out personal insults, she said Mr Cunliffe was a "recidivist sexist" and added: "It's a sexist comment and you'd certainly know that if one of (National's) male MPs said it."
A member of Mr Cunliffe's staff said the comment was tongue-in-cheek and made in good spirit, and the Leader of the Opposition would not be responding to Mrs Collins' claims that it was sexist.
It followed an opinion piece by Ms Collins on the same website in September in which she suggested that the Labour leadership contenders were "prats".
It is not the first time Ms Collins has accused the Labour leader of sexism.
In 2011, Mr Cunliffe said during a RadioLive interview that the human species would be extinct if Mrs Collins was the last woman on Earth.
He later said the comment was "in bad taste" and apologised at the recommendation of Labour's then-leader, Phil Goff.
Ms Collins has caused a stir with her heckling of fellow MPs, in particular when she described Greens co-leader Metiria Turei's dress sense as "vile, ugly and wrong".