How have we arrived at a situation that people have to wait up to 7 hours in order to receive a food parcel? Why is it so bad in Auckland? We can find short-term solutions but in the longer term, we must seek out more sustainable and achievable solutions. No one in NZ who is prepared to work should be in this poverty cycle. Even the jobs that are available do not fill the gap between just existing and some sort of position that a 'happy Xmas' can be an expectation, not a miracle! Take for example, a hospitality worker, who cannot afford to live 'where the jobs are' who must travel. You can be sure that their employers, usually a foreign owned business, will compensate them for the travel, unless they are at the very top of their organization. No company cars or subsidies for them! Take a moment out of your day and think about these families. Yeah---dig a little and help--even if it just helps for a few days
Food queues already huge, says Mission
5:30 AM Saturday Dec 14, 2013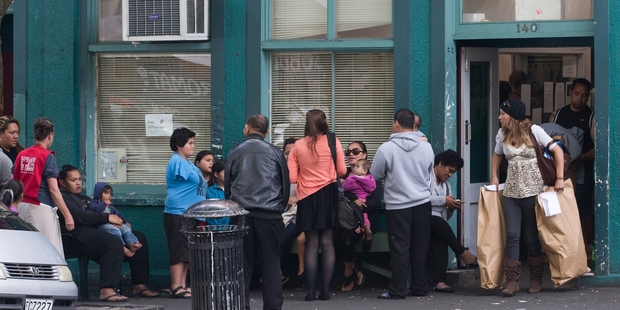 Auckland City Mission staff say people are waiting up to six or seven hours for a food parcel. Photo / Greg Bowker.
Aucklanders are queuing for up to seven hours for food parcels from the City Mission, as donations run thin.
The waits are only expected to get worse as Christmas nears, with needy families arriving at the mission increasingly desperate.
Auckland city missioner Diane Robertson said people were prepared to wait most of the day because they had nowhere else to go.
"The reality is, we're quite a way off Christmas, and certainly the numbers coming in are huge.
"For some people it is a wait of six or seven hours to receive a Christmas food parcel. I think it will probably get worse.
"What we're seeing now is what we would usually see in the last few days before Christmas."
Everyone who received a food parcel was tested by Work and Income at the mission, Ms Robertson said.
"It's about numbers being large and it's also about people being desperate.
"Every single person who comes through here has nowhere else to go ... people have exhausted every option before they come here. Believe you me, unless you really had to, you wouldn't do this.
"I'm looking at our numbers and they're higher than last year. I just think people live in chronic poverty - economic recovery is certainly not touching these people."
About 250 families and individuals were getting through the Auckland City Mission for assistance each day. In addition to the food parcels, every child received a Christmas present. About 2000 gifts had already been given out, she said.
"We're still waiting for the donations to come in to meet theneed we're seeing."
She said donations to the mission usually started to arrive closer to Christmas than this.
Darryl Evans, chief executive of Mangere Budgeting, which delivers support to all of South Auckland, said this was shaping up to be a particularly difficult Christmas for a lot of Auckland families.
"In the last three or four weeks the number of requests for food parcels has risen considerably. There are people circling all the food banks because they're just so desperate and there's such a need. It's really sad.
"We've seen about a 69 per cent increase in ... requests for Christmas hampers from this time last year. It's very, very tough out there," he said.
And it wasn't just more people seeking Christmas assistance there was actually a shortage of food coming in, Mr Evans said.
"There haven't been the donations we've seen in the past. The philanthropic dollar has disappeared. It's really tough for families ... People, in general, are tightening the purse strings."
How to help
• Food and gift donations for the Auckland City Mission can be dropped in to the mission at 140 Hobson St, in ASB banks or on
aucklandcitymission.org.nz
where people can sign up to "become someone's angel'' for Christmas.
• In South Auckland, donations can be delivered to Mangere Budgeting at 59b Mahunga Drive, Mangere. The budgeting service can also arrange pick-ups on 09 275 2266.