'P'-- the modern day scourge, rears its ugly head in Epsom---and many other suburbs in our cities. If you suspect these criminals are operating in your town/city or anywhere else, call the police! Read my take on what happens when a family member decides to enter into the world of 'P.' Download my book, ROSKILL from www.authorneilcoleman.com The new edition will be available in the next week.
Epsom property raided by armed police
9:31 AM Friday Apr 4, 2014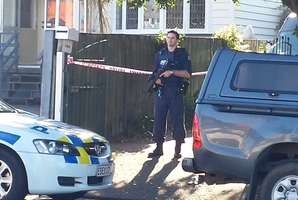 Photo / Chris Lee
Do you know more? Send your story, photos or videos here.
An Epsom property believed to house a clandestine methamphetamine lab has been raided by armed police this morning.
Auckland City Police communications manager Noreen Hegarty said a search warrant at the Manukau Rd property was executed just after 5.30am.
It's believed there was a clandestine methamphetamine lab at the property, she said.
"A preliminary examination has located chemicals and components of a lab and a scene examination is continuing."
Three people had been spoken to at the address, however there had yet to be any confirmed arrests.
No children were at the address, Ms Hegarty said.
Manukau Rd between Greenfield Rd and Pah Rd were closed by police while the warrant was executed.
They would be closed until the area was deemed safe, Ms Hegarty said.
Fire service and ambulance staff were also at the scene.