Read on---what can I say! This lot make the more 'extreme in NZ look like puppy dogs. America must wonder what it has bred---or maybe that is the problem---can't you hear the sound of 'banjos.'?
10 things to know about Westboro Baptist Church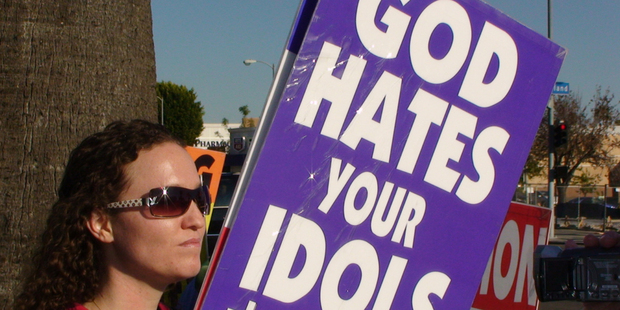 The controversial and anti-gay, anti-Jewish, anti-Catholic, anti-abortion hate group, known as the Westboro Baptist Church (WBC) has
announced plans to picket Lorde's concert in Kansas
on March 21 because the singer "doesn't have enough sense to put in a thimble".
Although small, this extreme group has provoked backlash around the world. Today we look more closely at their history, views and actions.
1. Its founder has been allegedly ex-communicated and is dying
Rev Fred Phelps Sr was originally an assistant pastor to East Side Baptist Church which then promoted him to pastor of their new church in 1955. Shortly after, Phelps removed ties with East Side Baptist. He started leading anti-gay protests in 1991. His youngest child, Nathan, who left the group in the 1980s posted on his Facebook profile that his father was ex-communicated in August last year and
is "on the edge of death" and has been "destroyed by the monster he made."
2. New Zealand is on its list of sinners
On one of their hate sites, the WBC identifies New Zealand for being hated by God for its filthy manner of life, false religious systems and evil government. It also claims that New Zealand has several "poster children for sin", including Prime Minister John Key. Because of these factors, the WBC believes that the New Zealand wars, the Aramoana massacre, earthquakes, Cyclone Bola and the Pike River tragedy are evidence of God's wrath against New Zealand.
Watch: Church plans to picket Lorde concert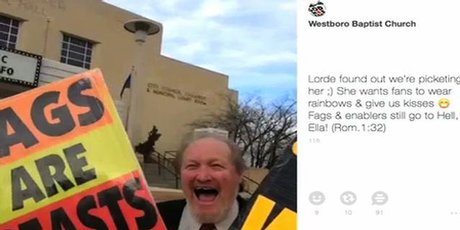 3. The group claims to have picketed 52,325 times
Since its first protest in a city park because it was a "den of anonymous homosexual activity", the WBC pickets approximately six locations daily. Originally targeting its local Topeka area, it now claims to have protested in all of America's 50 states.
4. The WBC supported Saddam Hussein
In 1997, Phelps wrote to Saddam Hussein praising Iraq for allowing Christians to preach in a Muslim state and condemned America for its 'militant sodomites' who were in control of the country. He wrote that he would like to send a delegation from the WBC to Baghdad to preach for a week. Hussein granted permission and a group of members stood on the streets holding anti Bill and Hillary Clinton signs, as well as condemning anal sex.
5. The founder is a veteran of the Civil Rights Movement
After earning his law degree in 1964, Phelps established his own law firm and a large portion of his work was focused on civil rights, taking on African-American clients alleging racial discrimination. Phelps received awards in the 1980s for this work, including one from the local branch of the NAACP. His views have influenced the WBC, which states on its FAQ page that "We don't believe in physical violence of any kind, and the Scripture doesn't support racism."
6. The WBC has made a Royals parody
Lorde performing in New York. Photo / AP
The group has made dozens of parodies of popular songs, including Katy Perry's
Roar
, Billy Idol's
White Wedding
and Adele's
Rolling in the Deep
and has more recently published a parody of Lorde's song
Royals
, which
won Song of the Year at the Grammy Awards
in January.
One verse reads:
Cuz every son you sing's bare-teeth, ragin, sinnin' in the bedroom
Bloodlust, scoffin', trashin' your Creator
You don't care; you're really bad-asses in your dreams.
7. WBC is banned from entering Britain or Canada
In 2009, Phelps and his daughter Shirley Phelps-Roper targeted Queen Mary's College in Britain for staging The Laramie Project - a play about a man killed for being gay. However, just two days before his arrival, the UK Home Office declared that the pair would be refused entry, as would any other church members who tried to enter Britain. It later put the pair on the
list of people banned from visiting the UK
, saying they are "considered to be engaging in unacceptable behavior by fostering hatred which might lead to intercommunity violence in the UK."
Canada had banned the WBC from entering its country a year earlier when a protest was planned at a funeral of a man murdered on a bus. The group said the crime was God's reaction to Canadian laws around abortion, homosexuality, divorce and remarriage.
8. The White House says it can't list WBC as a "hate group"
The White House has a digital petition platform, known as "We the People", that was founded in 1999. It allows submissions for petitioning the current administration's policy experts.
Following the shooting of 26 victims, including 20 young children at Sandy Hook Elementary School in 2012, the WBC announced that it would picket a vigil for the victims. It claimed that "God sent the shooter" and America was being punished for its acceptance of homosexuality.
Submissions were made to list the WBC as a hate group and revoke its tax exempt status. The five most popular submissions received over 500,000 signatures between them. However, the White House said that they cannot officially recognise the group as a hate group because it doesn't collect any such lists. It continued, "Moreover, one of the remarkable things about this set of petitions is that it shows just how strong the bonds that unite us can be. Together, we're more resilient than those who would try to drive us apart."
9. The WBC celebrates death as evidence of God's work
The group's picketing at the funerals of serviceman has resulted in former US President George W. Bush signing into law the Respect for America's Fallen Heroes Act in 2006 and US President Barack Obama passing a bill that included restrictions on demonstrators at military funerals in 2012. The group celebrates death around the world, praising killers and natural disasters as God's work. Given the title "God Smacks", the WBC dedicates a section of their website to praise God's work when there are murders, tragic accidents and deadly natural disasters.
10. A Satanist group vows to turn the founder gay after he dies
Rev. Fred Phelps Sr. Photo / AP
In July last year, a New York Satanist group made headlines when it performed a same-sex ritual at the grave of Phelps' mother, Catherine Johnston. Naming it a Pink Mass, spokesman Lucien Greaves wore two horns on his head while two male couples and a female couple read scriptures. They also lit candles and kissed over the grave. They then declared Johnston a lesbian.
Now Greaves is making claims that he will do the same to Phelps after he dies. In a
statement to VICE
, he states that he had "predicted that he would be presiding over Fred's own Pink Mass before too long. As I have made a promise to a dying man, I fully intend to do my very best to see it through, and the pomp and circumstance of this Pink Mass will surely far, far exceed that of the original event in Meridian, Mississippi."